Uncategorized
Spicy Garlic Bread Recipes – This Cheese, Onion and Sriracha Garlic Bread Features the Popular Sauce (TrendHunter.com)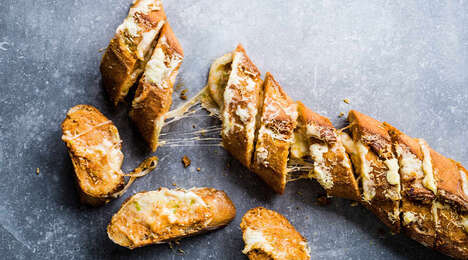 This Cheese, Onion and Sriracha Garlic Bread recipe from Mag the Weekly combines classic ingredients with a spicy kick. Made with a fresh baguette, salted butter, garlic cloves, spring onions, mozzarella and mature cheddar, this recipe adds sriracha for a bolder flavor profile.
Highlighting the versatility of the ultra-popular hot sauce, this garlic bread recipe requires just 20 minutes of baking, making it a quick, easy and delicious appetizer for those short on time. Once baked for 15 minutes in foil, the top layer of the bread is unwrapped and baked for an additional 5 minutes for a crispy and golden finished product.
With more and more consumers creating DIY bread at home, classic appetizers like garlic bread are getting an overhaul with artisan ingredients that rival those offered at fast casual restaurants.
Image Credit: Mag The Weekly