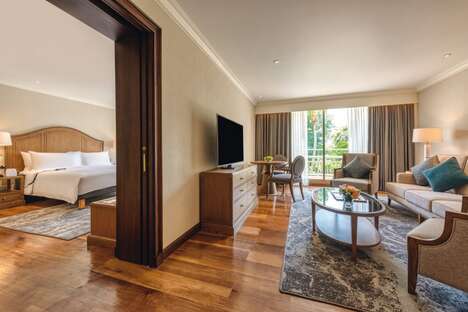 Amid the COVID-19 chaos, Mövenpick and Bangkok Hospital worked together to offer individuals a special healthcare package, titled the 'BDMS Wellness Resort.' The service was geared toward anyone returning from trips abroad and was designed to offer a comfortable and luxurious experience for the mandatory 14 days of self-quarantine.
Taking note of important regulations, Mövenpick facilitated comfort-focused 'Wellness Suites' Spanning 74-square-meters, the room includes a large Smart TV, a state-of-the-art home theatre sound system, high-speed internet connection, iHome Zenergy Sleep Therapy Speaker and Lamps, a spacious living room area, and a balcony with a garden view. For those who wanted to stay active, the special healthcare package included a Yoga practice set, as well as three specially prepared meals a day.
Retailing for 50,000 THB, the 'BDMS Wellness Resort' was open until May 31st.
Image Credit: Scandasia