Uncategorized
Remixed Streusel Bread Pastries – BapBap's Soboro Puts a Modern Twist on a Classic Korean Dessert (TrendHunter.com)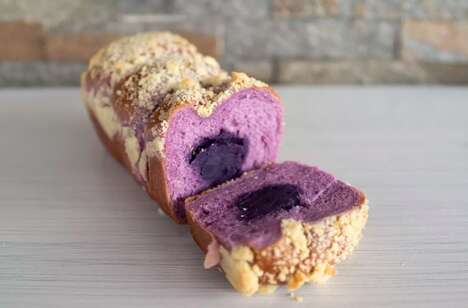 BapBap's Soboro loaf puts a modern spin on a traditional Korean dessert and is a sweet pairing with the eatery's savory menu items. Located in the heart of Flushing, Queens, the Korean-inspired eatery was founded by Nate Kuester and Jason Lui who met while working at Michelin-starred restaurant Aquavit.
BapBap's vibrant interior and fast-casual menu consists of signature seasoned rice bowls, seafood bowls and seaweed-wrapped rolls with the option of "smoked brisket, grilled squid, black vinegar-glazed mushroom, and spicy tuna mix" seasonings.
Dessert lovers are sure to enjoy BapBap's soft serve options along with its Soboro loaf, a contemporary take on traditional Korean streusel bread. The pastry combines scoops of ube with a topping of "buttery and crumbly" crust.
Image Credit: Annie Grossinger/Eater