Uncategorized
Keto-Friendly Garlic Bread Recipes – Eatwell101's Garlic Butter Keto Bread is Diet-Friendly (TrendHunter.com)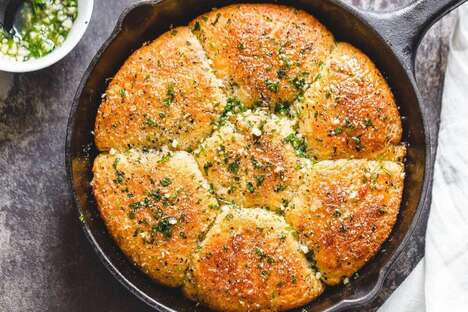 This Garlic Butter Keto Bread recipe from eatwell101 is diet-friendly without skipping out on taste. Targeting those on a ketogenic diet plan, this recipe is formulated to be "crisp on the outside and moist in the inside" while featuring a low cab profile.
Made with almond flour, this recipe also features a cream cheese and mozzarella dough and is combined with eggs and bacon bits for an added flavor and protein boost. The recipe also features Italian herb seasoning along with a golden parmesan and herb crust that is brought to life with a brushed garlic butter topping.
The Garlic Butter Keto Bread's garlic butter topping is handmade with browned butter, finely minced garlic cloves and freshly chopped parsley.
Image Credit: eatwell101